BizHat.com > Movies > Actress

More about Shakeela
Shakeela | More about Shakeela | Gallery 1 | Gallery 2 | Movie Clips Download

Interview with Shakeela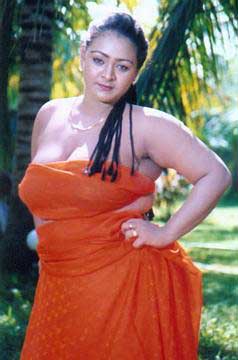 Shakila: Sexy and Irresistible!
Kerala's hottest property on par with the three supremos of Malayalam films is Shakila who is a craze among the soft porn moviegoers. An oversized figure, Shakila who was doing small roles, in itsy bitsy dresses, has made a big time hit with the film Kinarathumbikal. Today she charges Rs 1 lakh per day and her face on the posters is a guarantee to initial rush in the theatres.
Did you start out as a glamour doll in films?
I was sitting at home doing nothing when an agent came to my house and asked my mother if, I would like to act in a film called Playgirls, (a Tamil film) and if it was okay with me, then I had to report at once. My reply being yes, the same day afternoon I had to face the camera. The film was not an out and out sex film and I played the role of a supporting actress in it. After that I acted as vamp in many Tamil movies till Kinarathumbikal happened.
How do you feel as the dream girl of Kerala youth?
I can't believe that I am the favorite of boys in their wet dreams and I feel thrilled to know that I am irresistible for them.
Are you satisfied as an actress?
(She spits in contempt) Sir, when the scene does not require me to show my thighs the cameraman will keep the camera right from below and takes the shot. And if in a scene, I were talking on the phone also, the director would ask me to show my belly button. All this is too much! I am always given a tight blouse, a single dhoti and asked to bite my lips and give sexy expressions, if at all I am given a character role in a movie. What to do? Shakila is a sex symbol. Anyway I don't have time to think about all this as I am always on the move! I am busy running from Chennai to various locations in Kerala.
When the soft porn wave dies, you will also vanish with it...
All glamour girls face this problem. We don't get the roles that we can act and are used only to sell the film by exposing our body. And one day we are discarded by the public, who run after new girls. Anyway I am prepared for that eventuality too. I have no regrets because I got something that I never expected and however be so, I would be still remembered by the Kerala public. As an actress I would like to do films with Mohanlal and Mamooty and also would like to work with directors like Fazil. But, that can never happen! For directors and producers, I am only a sex symbol who can be used only to sell their films.
Your film's collections are equal to that of the Superstars?
It's a consolation but can I ever show these films to anyone with pride? I have acted with Shivaji sir in a Tamil movie. And I aspire to act in a Mohanlal film but who will cast me? I asked a big director to cast me and he told me that if my face comes on the posters then his film will get a bad name. In Kinarathumbikal, I did a sexy role but then I feel that the subject required it. After that I was cast to just put my pix on the poster. And without any justification, I was asked to strip. Some people are going around, telling me that they have my blue film. All this is very humiliating and now I am trying to clear the scene by doing only sexy scenes, that to if the role demands it.
Can you be another Silk Smitha?
No way! Silk is irreplaceable and was extremely talented. She had a perfect body. I have a bulky figure which shown in parts is exciting but if I wear a swimsuit, I would be a laughing stock. Today this heavy figure is my asset and my curse too !!