BizHat.com > Movies > Actress

Rima Kallingal
Rima Kallingal | About Rima | Video Clips | Interview | Wallpaper | Gallery 1 | Gallery 2
Miss Kerala 2008 is something that she missed but being the talk of the town bagging big banner movies from big shots, she is the Miss Kerala 2009 of the Malayalam Film Industry. Yes she is Rima Kallingal - the damsel with a luring smile and curly locks to blow your fuses off.
A model and a trained artiste she started it all being a dancer and choreographer in to a contemporary dance company. Born to Asokan Kallingal, an engineer based in Thrissur, she started learning dance from a very young age of 6 years.
Though a perfectly happy girl with her dance career earlier, at this time as an actress Rima feels she is on a track which she had not expected; on a more fulfilling line of art that makes her a content artiste. Rima brought up in Bangalore took a leap from dance essentially looking for some exposure for her dance company in the Kerala zone. The girl who was not prepared for what Miss Kerala gave her says that she got the right spotlight and recognition from the industry and from the public. "I have had no time to sit still since then. And I am surely not complaining" says the actress with her killing smile.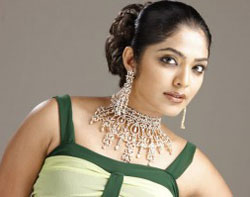 Enjoying all the fame of being an actress when it comes to her passion, dance tops her priority who works as a Technical Analyst in Bangalore. "Dance is my passion. I focus on Indian contemporary dance. Though I am more comfortable with Bharathanatyam, Mohiniyattom and Kathak, training in Kalari and other martial arts gives more flexibility and scope of experimentation" says Ms. Kallingal with an expressive pair of beautiful bright long eyes enhanced with Kajal. Rima the 21-year-old who has performed on national and international stages and who was also a semi-finalist in the popular television dance competition Thakathimi is an artiste who tries to blend all the dance forms in her choreography.
The girl who feels that both Beauty and Brains are important to win any beauty pageant is of the opinion that one should relax and enjoy the ride of the competition making it something that one would want to look back and smile thinking of the participation. About Miss Kerala pageant the beauty pageant which set the spotlights on for her, she feels that "it is unique for the fact that it does not primarily concentrate on physical appearance as much as the usual pageants". Though Ms. Kallingal missed the title, she was the one who stole the show at the Miss Kerala 2008 by winning titles such as Miss Photogenic, Miss Talented, Miss Beautiful Eyes, and Miss Voice. More than these the Malayalam celluloid was waiting for her portrayals. A dancer by profession she is vivacious and gorgeous who sweeps fans off their feet with her 1,000-watt smile and to quote her - "I am game for anything that has creative potential." And of course yes she is fit for the game. Waiting for the right moment to step on to the silver screen she made her debut with the yet to be released Tamil film Mazhai Vara Pokuthu from director Laljose, a film which is also the director's first footstep to Tamil.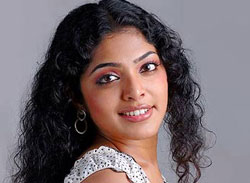 Rima made her first release with Ritu directed by none other than the acclaimed veteran Syamaprasad. In the ongoing project Neelathamara, she got the opportunity that envies her colleagues. In the film she got the fortune to portray a village girl to the script written none other than M.T one of the best scriptwriters of Indian cinema and also the opportunity to be directed by one of the good directors of Malayalam cinema Mr. Laljose. A new face like her couldn't have a better start than this. And very soon we could spot her with the youth icon Pritviraj in the Shaji Kailas movie Reghupathy Raghava Rajaram which will feature Prithviraj in triple roles.
Making waves in the industry with a good performance in her very first released movie Ritu, one could say that she is to climb the ladder of a good quality artiste. A bundle of brilliance and talent along with stunning looks Rima has got every ingredient to be in the Malayalam Cinema which is facing a dearth of beautiful and talented actress in recent times. As the window of opportunities makes her schedules & days busier let's hope this new face is here to stay for long…