BizHat.com > Movies > Actress

Meera Jasmine
Meera Jasmine | More about Meera | Gallery 1 | Gallery 2 | Screensavers

Meera Jasmine was born on February 15, 1984 in Kuttappuzha, Thiruvalla, Pathanamthitta in Kerala. Born as Jasmine Mary Joseph to Joseph and Aleyamma, a Marthomite by birth, she completed her schooling in Mar Thoma Residential School, Thiruvalla.
Not born into a family of actors, Meera was an unnoticed talent. She was introduced to the industry by Lohithadas.
Meera made her debut in the Malayalam film Soothradharan in 2001 directed by Lohithadas opposite Dileep. Though the film flopped, she received offers from other languages. She has starred in a dozen Malayalam films in her six-year career. Her second film was directed by ace director Kamal, alongside Navya Nair, opposite Dileep. Her role as a Jewish girl was appreciated by Malayalam cine goers. Her third movie was a romantic comedy along side Prithviraj, Kunchako Boban, Jayasurya, and Bhavana under director Kamal. Her performance was appreciated and the movie was success at the box office. among the five main characters, one who scored the most was again Meera. She got real attention in Malayalam cinema with the movie Kasthoorimann directed by her mentor Lohithadas.
She was able to enact both comedy and sentimental scenes with equal fervor. She received her first film fare award for her performance in Kasthoorimann. The film was also a success in box office running for 100 days. The same year, she acted in T V Chandran's much acclaimed Paadam Onnu: Oru Vilapam. She played a 15-year-old Muslim girl who was forced to marry an older man. She not only received state award, but also National Award for Best actress and many other awards beating many strong contenders like Aishwarya Rai and Sushmita Sen.
Then came another soul-stirring performance as Raziya in Perumazhakkalam alongside Kavya Madhavan. In the movie 'Achuvinte Amma'(2005), she has enacted the young, adorable character Achu, with extraordinary ease that she seemed to live the character, instead of acting. She then paired with Mohanlal in 'Rasathantram' (2006). She played as a guy in the half and the movie went on to became a block buster. Her next movie, Vinodayathara was again with Satyan Anthikadu who repeated her in his 3rd consecutive movie. She then starred in critically acclaimed movie Ore Kadal. The movie was showcased in various film fstivals and won several awards. Her perfomance as a innocent middle class women won praises from various corners. Media quoted her as, "Matching step with the megastar in this histrionic race is Meera Jasmine who amazes you with a stunning delineation of her difficult role." Her next movie was Calcutta News with Dileep Blessy, who intoduced her to film field. Then she starred in the movies of Satyan Anthikadu and Kamal, hr fourth film with both directors in a six year career. She is currently banned from Malayala Film since she didnt act in the movie,Twenty 20.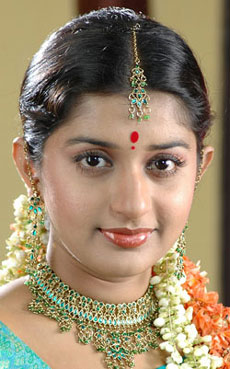 Meera's Tamil film entry made her a well-known star in the South. The success of Tamil films Run and Bala in 2002 have given her the chance to work with popular actors of the Tamil industry. She won the Filmfare Best Female debut actress award for Run. The success of the films led her to work with famed directors like Mani Ratnam in Aayudha Ezhuthu and SS Stanley in Mercury Pookkal. Meerah has acted in more than ten Tamil films. Her recent Tamil film, Parattai Engira Azhagu Sundaram, with Dhanush as her male lead, was a colossal flop. In her film Nepali, where she was the love interest of Bharath also bombed badly. Meera Jasmine is now paired against senior actor Vijayakant for his next film to be directed by Vikraman.
Meera Jasmine became famous in Telugu film industry with her first film (dubbed from Tamil) 'Run'. She has not only showed her presence in the Telugu films in 2004 with Ammayi Bagundi and Gudumba Shankar but also entered Kannada cinema by co-starring with Puneet Rajkumar in Maurya. Her latest Kannada film Arrasu is also a hit. Meerah's biggest Telugu hit was Bhadra with Ravi Teja in the male lead. Her other Telugu films are Raraju, Maharadhi, Yamagola Malli Modalaindi, Gorintaku and upcoming film Maa Aayana Chantipilladu, in which she is paired for a second time with Sivaji.
It is reported by media that she will be marrying U. Rajesh, a mandolin artist. Rajesh and Meera have formally confirmed the love they have for each other. Rajesh is the brother of notable mandolin artist U. Srinivas. However, according to Meera Jasmine, she will not be marrying Rajesh for another two years, till her on-going film commitments are over.
She offered prayers and bowed to Lord at Raja Rajeshwara temple at Taliparamba in Kerala where the entry of non-Hindus is prohibited. This led to a controversy and sparked off a protest by Hindu devotees. Later, she paid Rs. 10,000 as penalty to the temple authorities.