BizHat.com > Movies > Actress

Mallika Sherawat
Mallika Sherawat | About Mallika Sherawat | Gallery 1 | Gallery 2
Mallika Sherawat born on October 24th 1976 in Rohtak, Haryana is the most prominent sexy actress in Bollywood, who charged a whopping Rs.1.5 crores for just an item number and became the highest paid actress in Bollywood.
Born in a conservative family as Reema Lamba, she changed her name to Mallika Sherawat in order to distinguish herself from similar names like Reema Sen, Riima Sen, and Riya Sen in Bollywood. Mallika meaning 'Empress' and Sherawat being her mother's name, she became Mallika Sherawat. A graduate in Philosophy from Delhi University, Mallika Sherawat prior to her Bollywood entry has worked as an airhostess and fell in love with a pilot Karan Singh Gill and soon married. But the marriage quickly ended in divorce and Mallika Sherawat backpacked herself to Mumbai in search of her dreams. The burning desire to become an actress one day was there in her since childhood and she grew up dreaming of a wonderful life as an actress.
After a string of commercial campaigns like Santro and 7Up, Mallika Sherawat made her Bollywood debut in 2002 with 'Jeena Sirf Mere Liye'. Next came 'Kwashish' in 2003, in which Mallika Sherawat was at her sexiest best and stunned the audience with her seventeen luscious kisses and provocative performance and went on to earn nicknames like 'Bollywood Bombshell', 'Sexy Diva' and 'The sex queen of Bollywood' and so on. In 2004, she followed it with 'Murder', a Hollywood version of 'Unfaithful'. The sex queen's performance in the role of a woman with an extra-marital affair in 'Murder' was well appreciated throughput the film industry. The movie eventually became one of the biggest hits of the year.
With two huge hits under her belt, Mallika Sherawat has become bolder and more provocative in choosing her roles. In 'San wa' or 'The Myth' [2005], where she starred in a small role opposite international celebrity Jackie Chan, Mallika Sherawat looked stunningly sexy in revealing costumes. When she appeared at Cannes Film Festival along with Jackie Chan to promote the movie, Mallika Sherawat became the central attraction and hogged all the limelight.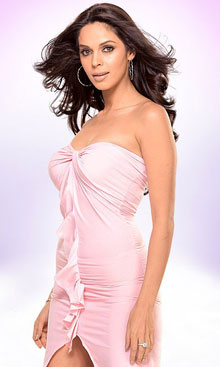 Shedding her image as the 'hottest item girl', Mallika Sherawat gave an amazing performance in 'Pyaar Ke Side Effects' [2006] and proved that she too can act and evoke emotions in us. She really evoked laughter in us with her comical performance in the movie. After having proved herself as an actress, she has donned a variety of roles in movies like 'Bachke Rehna Re Baba' [2005], 'Shaadi Se Pehle' [2006] and so on.
In Himesh Reshammiya's 'Aap Ka Suroor' [2007], the queen of Bollywood has appeared in a 10-minute cameo role and was reportedly paid a massive Rs.1.5 crores for her sensational item number. This the sexy starlet, Mallika Sherawat became the highest paid actress in the history of Bollywood and reached the stature of Hollywood's Marlon Brando who was paid $14 million for his 10-minute appearance in 'Superman' in 1978.
Mallika Sherawat is now pinning hopes on her upcoming movies like 'Welcome', 'Fauj Mein Mauj', and 'Unveiled' and 'Dasavatharam', a multi-lingual movie being shot in seven Indian languages besides English.
Every magazine right from Filmfare, Femina to Manís World, Cosmopolitan and Snoop magazine published from London have featured Mallika Sherawat, the hottest actress on their covers. Hong Kong's fashion magazine, Cover which declared Mallika Sherawat as one among the 100 most beautiful women in Asia is also planning to do a feature story on this Bollywood's sexy actress for their millions of readers. The sexy queen was even approached by the world famous Playboy magazine to appear nude for its feature pages, which she declined politely.