BizHat.com > Movies > Actress

Kushbu
Kushbu | About Kushbu | Gallery 1 | Gallery 2
Kushboo Sundar, born Khushboo Khan (born 29 September 1970) is an Indian actress, television hostess and producer.
She started her career in the eighties as a child artist. Her first movie was Thodisi Bewafaii (1980) where she had an uncredited appearance. Later, in 1981, she had her first role in Laawaris. Since then, she has played in over 100 movies, some of which opposite leading Tamil actors like Rajinikanth, Kamal Haasan, Sathyaraj and Prabhu. She is known for her TV show Jackpot and her serials Kalki, Janani and Kungumam. She is also a judge in the Maanada Mayilaada.
Apart from Tamil movies, she also acted in various movies in Kannada, Telugu, and Malayalam. Kushboo was introduced to South Indian by the Kannada actor-director Ravichandran. She has acted in many movies with him notably Ranadheera (1987), Anjada Gandu, Kaliyuga Pandavulu, Shanthi Kranthi and Yugapurusha. Khushboo has widely been recognized as a bold on screen protagonist.
Kushboo's popularity is such that her fans built a temple dedicated to her at Tiruchirapalli. A special type of idli (a popular food in south Indian cuisine) called "Kushboo Idli" is named after her.
Khushboo's name, perhaps is the first to be used as brand on sarees in the south as 'KHUSBOO SAREE'.
She is married to director-cum-actor Sundar C. They have two daughters named Avanthika and Ananditha, after whom they have named their production house. She has been living in Chennai for the past twenty years. She also has three brothers. Her brother, Abdullah, is expected to make his debut in the movie industry, playing the lead role in the movie 'Netru pol inru illai'.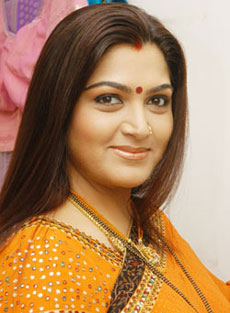 During her peak years in the Tamil movie industry, she claimed she was secretly married to actor Prabhu Ganesan, son of the legendary late Tamil actor Sivaji Ganeshan. She had been paired with Prabhu in many movies such as Chinna Thambi, Dharmathin Thalaivan, Velli Vizha, Paandithurai, Kizhakku Karai, My Dear Marthandan, etc. but this news was never confirmed by Prabhu, who was already married. Prabhu never divorced his wife and the news soon died out. The duo with the enviable chemistry only acted in Chinna Vathiyar, and most recently, in Vegam after the well-publicised controversy.
In 2005, there was a well-publicized controversy about her remarks in an interview for AIDS awareness, about the need for protective sex: she said it was fine for girls to have pre-marital sex - but not without taking precautions to prevent pregnancy and sexually transmitted diseases. Later, she added that no educated man should expect his wife or girlfriend to be a virgin. Two political parties lashed out at her because of her remarks: the Dalit Panthers of India and the Pattali Makkal Katchi. She was ordered to court and her counsel offered to withdraw the previously issued anticipatory bail petition. The judge acceded and dismissed the petition as withdrawn.