BizHat.com > Movies > Actress

Kajol
Kajol | About Kajol | Gallery 1 | Gallery 2
Kajol, one of the most successful actresses of Bollywood, was born to actress Tanuja and producer Somu Mukherjee. She comes from a filmy family, her grandmother Shobhna Samarth and great grandmother Rattan Bai have been major figures in Bollywood. Famous star of yesteryears, Nutan is her aunt and Rani Mukherjee, another equally successful actress, is her second cousin. Her childhood was laden with happiness and material prosperity.
Though she has the girl next door image and is not as glamorous as the others in her field, Kajol is outstanding in her acting. The flexibility of her acting can be seen from the various characters done by this natural actress. She gives more attention to her acting than the financial success of a film.
Kajol debuted with the flop film 'Bekhudi' (1992), but she made an impact with her second film 'Baazigar' (1993). This was followed by a fabulous performance in the family drama, 'Udhaar Ki Zindagi' (1994) for which she received rave reviews. Her next movie was 'Yeh Dillagi' (1994) where she showed her full range of acting along with Akshay Kumar and Saif Ali Khan. In 1995, she had a hit 'Karan Arjun', with Shahruk Khan. The same year she paired with Ajay Devgan, in two action thrillers 'Gundaraj' and 'Hulchul'. Her 'Dilwale Dulahaniya Le Jayenge'(1995) with Shah Rukh Khan shot her to the top most position in Bollywood. She won the Filmfare Best Actress Award for her performance in this film.
She did not do many films in the year 1996. In 1997, she played a villainous role in Rajiv Rai's murder mystery 'Gupt' and became the first woman to win the Filmfare Best Villain Award. Then she was again paired with Ajay Devgan in Indra Kumar's romantic comedy, 'Ishq' which was a huge commercial hit. But the same year, 'Sapnay', a remake of the Tamil hit 'Minsaara Kanavu' with Arvind Swamy and Prabhu Deva, failed at the box office.
The Year 1998 was good for her with three successive hits such as 'Pyaar To Hona Hi Tha' with Ajay Devgan, 'Pyaar Kiya To Darna Kya' with Salman Khan and 'Dushman' with Sunjay Dutt. But the real blockbuster of the year happened towards the end, with Karan Johar's 'Kuch Kuch Hota Hai' where her character Anjali played a frivolous role with her boyish look in the first half and a very different sophisticated role in the second. Then came movies like 'Dil Kya Kare' (1999), 'Hote Hote Pyar Hogaya' (1999) etc which failed to draw the same response at the box office.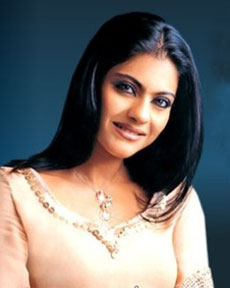 She got married to actor Ajay Devgan on February 24, 1999 and a daughter Nysa was born to them in April 2003. After her marriage she became selective in her roles and joined Ajay Devgan's production company. She was seen in films like 'Raju Chacha' (2000), 'Kuch Khatti Kuch Meethi' (2001), Karan Johar's 'Kabhi Kushi Kabhi Gham' (2001) and 'Kal Ho Na Ho' (2003). She won the third Film Fare award for her brilliant performance in 'Kabhi Khushi Kabhi Gham'. After this movie, she stayed away from the film industry for a while. In 2006, she came back enacting the role of a blind Kashmiri girl with Aamir Khan in Kunal Kohliís 'Fanaa'. Aamir and Kajol showed sparks of brilliance and created an incredible chemistry between their characters.
Charming Kajol, with her simplicity, girl next door attitude and exceptional acting talent has won over the audience and has a steady fan following. She is the brand ambassador of Whirlpool products along with her husband. Her younger sister Tanisha appeared in films like 'Neal 'n' Nikki', 'Sarkar' etc. Kajol's eventful journey from 'Bekhudi' to 'Fanaa', shows the power of her versatility, sheer hard work and dedication towards art behind all of her roles. She doesn't give more importance to publicity or celebrity because she believes acting is purely a profession. No wonder then that Kajol is rated as superb among her generation of leading ladies...