BizHat.com > Movies > Actors

Suresh Gopi
Suresh Gopi | About Suresh Gopi | Gallery 1 | Gallery 2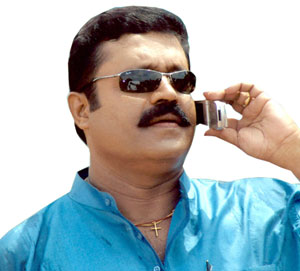 The ruthless cop is back in action with his Crime File. The untiring Mafia-buster is doing it again on the big screen, taking Kerala by storm. And he is proving that this is his exclusive forte, where nobody else can shine. Remember 'Madhavan IPS'? 'Bharat Chandran IPS'? Or 'Muhammad Sarkar IPS'? Then came the image of the avenger and fighter: Chief Minister Nayanar of 'Jandhipatyam' and journalist Nandakumar of 'Patram', both Joshi films. Suresh Gopi is the first-ever complete goon-basher of the Malayalam silver screen. He has never lacked the piercing words on his burning tongue or the killer power in the clenched fist. He would talk down any corrupt eater of the taxpayers' money and send him to the netherworld without any qualms. "My wife used to flinch seeing me on-screen, spitting abusive words at antagonists and getting beaten up by villains. My neighbours wonder how such a poor soul like me could use such vile language and bash up all those ruffians when in real life I am such a peaceful guy. It is a great risk and I take it. It pays," Suresh Gopi would say.
Yes, perseverance pays. From years of waiting in the wings at film sets and the gates of producers' homes in Chennai, Suresh Gopi has grown into the busiest Malayalam film star. The angry cop is now the role model for each and every Malayali, who is fed up of the corrupt politician, policemen, bureaucracy and the inevitable nexus they create with the Mafiosi. Anti-narcotic expert Madhavan breaks the unholy alliance of sadhus and politicians in 'Ekalavyan'. Police commissioner Bharat Chandran of 'Commissioner' takes on the mightiest political power centres to bust a huge Mafia. Muhammad Sarkar of 'FIR' tears away the mask of a philanthropic Mafioso overcoming Ludlumic dilemmas. All these films were box office wonders and proved that Suresh Gopi is unshakeable. And he continues to be so. "Dialogues had a very important role in the success of my films. There were films that bombed in the box office just because the hero was comparatively reticent," Suresh Gopi says.
But does that mean the credit for the success of Suresh Gopi's films goes to the dialogue-writer? "It does not." Suresh Gopi believes in the wholeness of the art called movie. The scriptwriter is not the film, nor is the actor. "All of them are the various inevitable parts of a film. People say 'Commissioner' was an excellent movie, Suresh did a grand job, and Ranji Panicker, the scriptwriter, did swell work. All this makes the movie. If a feast is to be grand, all the curries should be fine," he says.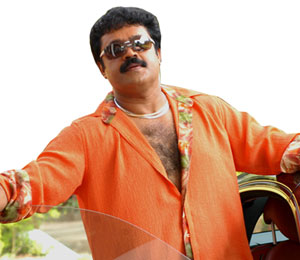 Suresh Gopi today is the mightiest of all the super stars of the Malayalam movie firmament. Yes, Mohan Lal is there and so is Mamooty. But he is in a class of his own, where nobody can intrude, as of today. But this does not mean his has been a flower-strewn path. "I suffered a lot," he reflects. Starting with insignificant and negative roles in movies loud with the angry voices of other super stars, Suresh Gopi had his biggest break in 'Ekalavyan' and 'Commissioner'. The Malayalam filmdom had to wait for years to find the fiery symbol of the crusader of justice. And then he had to establish himself as a versatile actor. He had to do it because he thought the heroes he enlivened were all taking machine guns, spraying bullets on enemies and ruthlessly strangulating him. "This image is unbearable. People expect me to be a just criminal."
And then he declared his decision: "I am, for a while, stopping acting in swashbuckling roles." He did prove his versatility. When I V Sasi's 'Anubhooti' unexpectedly turned out a box office wonder, Suresh proved his mettle as a mature actor. And then it was smooth sailing. He was adjudged the best actor for 1997 in the country for his unbelievably grand performance in Jayaraj's 'Kaliyattam'.
But is he quite sure that he deserved the national award for best actor? How does he feel for having achieved something that great actors like Thilakan (his character in 'Perunthachan' lost it by a hair's breadth) and Nedumudi Venu have won? Isn't it true that these days the best actor award is coming to the super stars?
"That is no mystery, you know. Normally, nice characters go to super stars. And when they do their job well, that is it. And do you think the award committee does not have its own yardsticks? The best actor award has gone to stars for their performance in good movies like 'Bharatham', 'Kaliyattam' and 'Ambedkar'. Films like 'Commissioner' do not win such an award. And then what is wrong in a super star getting an award?" Suresh Gopi is irritated.
Does he mean by this that 'Commissioner' was not a good movie? "I have never said that. That is an arbitrary conclusion that you draw out of context from what I said on other movies. If 'Commissioner' was not good, it would not have been such a phenomenal success in the theatres. People would have rejected it. There were my own films that were rejected just like that," he says.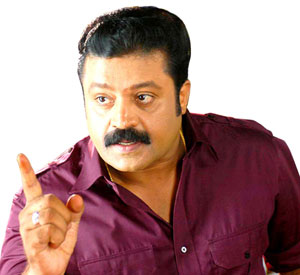 So, are all box office hits good movies? Does the monetary success make a film a good one? "You are reading too much between the lines. I did not mean either. Even you will agree with me that the value of a film is a relative matter."
Films like 'Commissioner' take advantage of the dissatisfaction the people have about the political and financial system of the society. Does Suresh Gopi agree with this? "No, never. Such movies have been made in all periods. A movie, like any other art form, can basically be a response to the existing set-up of its time. You have the Prem Nazir movies. You have the rebellious movies of Satyan. What about 'Murder in the Cathedral' by Samuel Becket. There is art in it, and it is enjoyable too. So where is the problem. Why 'Commissioner' alone?" asks the super star.
'Commissioner', basically, was a one-man army's crusade against political evil. It asks, in a sense, people to identify the hypocrites of the society. Can such films be inspiration to the people to respond to society's evil? "It is yes and no. Yes, to a good extent. There are some examples where, like plays, movies have made the people to react to evil."
"I don't know. But I see positive signs. In my college days, people used to look at the police in terror. We used to run off on seeing a blue-coloured van thinking it could be the police. This is quite unlikely these days. Things have changed. People of today are emboldened to stand up against the police and ask them questions. I don't say this is totally justifiable. We should be responsible citizens. But I may say, cinema, like many other art forms, does bring in changes," Suresh is sure.
"We do not learn history for the mere purpose of winning examinations. We do it on purpose too. We get lessons. We improve ourselves seeing the great men of history, get enlightened by their examples."