BizHat.com > Movies > Actors

Shahrukh Khan
Shahrukh Khan | About Shahrukh Khan | Gallery 1 | Gallery 2
The year is 1991. First-time director Hema Malini looks anxious on the sets of her directorial debut, 'Dil Aashna Hai'. The cause of her anxiety triggers laughter as it is discovered that the lady, despite employing all haircut methods on her boyish-looking hero Shahrukh Khan, remains unsuccessful with his unruly mop. Hema finally lets go of the boy and his effervescent hair without a crop.
The film bungled at the box office. Was it due to Khan's boisterous hair?
Today, in retrospect, it looks like it was his disheveled hair, big nose, average height and average looks that broke conventions to give birth to a new-age star.
SRK's USP were his energy, fizz and 'dreamz unlimited'. The boy just refuses to sit idle. Says Juhi co-star and friend: ''Shahrukh went on even when others stopped due to exhaustion. He breathes films. He is down-to-earth, without an attitude. He is very friendly and has a funny sense of humor''.
When Colonel Kapoor signed SRK for his serial on faujis, he knew the potential of the bubbly youth but the amazing career he would charter wasn't probably envisaged.
After Fauji, a couple of more television serials and Shahrukh joined the big league and gave a smashing hit Deewana with the late Divya Bharati. As compared to the superstars of yesteryears, Shahrukh's ride up the ladder was tougher. He had to face the rage of explosion of information and technology while working towards super-stardom. He was required to possess charisma compelling enough to make people rise above the zillion modes of entertainment and be his audience. Shahrukh managed to captivate and the feat, by no means, was easy.
From a boy-next-door to a saleable hero, from a hero to a star, a superstar and finally a phenomenon, though there is nothing concrete to show where his prowess lay. He was plain and ordinary. It is very difficult to place fingers on a reason that enabled SRK reach where he is today. Probably his plainness was his virtue. He was never an enigma. He was guileless, without a benefactor to lead him around by his fingers. His only weapon was his willingness to work hard and professionalism.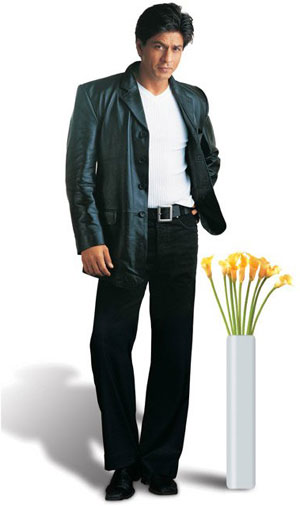 An upfront attitude earned SRK some very valuable friends in an industry otherwise dominated by detractors and chamchas. Juhi, his co-star, close pal and now his business partner for 'Dreamz Unlimited' forms an integral part of the core group, that has Aziz Mirza, whom SRK is very close to, Yash Johar, Yash Chopra and their sons Karan and Aditya.
In a profession where commitment towards wives and girlfriends take the backburner, SRK's devotion towards wife Gauri has been lauded. He is probably one of the rare actors who in their entire careers did not have any romantic liaisons. One who remained a buddy to men and women alike.
From a fauji to being SRK, the rise was epic. But a downward slide is inevitable. Even SRK knows that. Hence we see a production company already working full swing. But the loss of stardom hurts. The cola war bears ample evidence of that. Contrary to popular belief, SRK is not jealous. He has achieved far too much to envy the rise of new kids. He is apprehensive of a besiege.
The maiden venture of SRK's production company bombed. He was barely recovering from the disaster with hopes pinned on his next release 'Josh', when the film too failed to draw the kind of attention it was expected to. There's however, still time to the downward slide. SRK has too many good projects to keep him going strong. There's 'Kabhi Khushi Kabhi Gum', 'Mohabbatein', 'Devdaas', and his own production 'Ashoka, The Great'.
For every loss there is a new hope. SRK is too full of zest to be defeated and live quietly. He will explore other avenues in films even if he ceases to be a superstar. He will continue to be there.