BizHat.com > Movies > Actors

Sarath Kumar
Sarath Kumar | About Sarath Kumar | Gallery 1 | Gallery 2
Sarath Kumar, called by his loving fans as 'Supreme Star', has undergone numerous setbacks in cinefield before he could earn the avowed title cited above!
He was born on July 14th, in Delhi, his traditional abode being a small village called 'Thalakkavoor', near Karaikkudi, south Tamilnadu. His father Mu.Ramanathan was working in All India Radio and in Press Trust of India (P.T.I.).
Ramanathan was also for sometime a practising advocate in Chennai High Court. Sarath was the 3rd son of Ramanathan-Leelavathy couple. From his childhood days onwards he was a staunch fan of cine hero M.G.R. After having finished his Degree course (Maths) in Chennai, New College, Sarath started thinking about his entry into cinefield. He started his cinema career first as a producer. He produced 'Kan Simittum Neram' and 'Mister Karthik'. He acted in the role of a police officer in 'Kan Simittum Neram'. But before all that, with the cinema name 'Kamalkanth' he first tried his level best to become an actor in cinema and contacted so many film companies but all in vain! Yet he didn't give up his efforts and did not move away from his set goal and ambition to achieve a distinct place for him in the cinema world!
After a great struggle for a long period, he got a different sort of role in the film 'Pulan Visaaranai'! In the climax scene of that film, he clashed with Vijayakanth, exhibiting his enviable body build-up and physical valour and thus making the audience exclaim in a much-excited, felicitous tone 'Who this artist is?' When Vijayakanth and Sarath Kumar were actually acting in this scene, both of them were said to have effected an unwritten agreement between themselves---ie. in order to make the fight look realistic, they agreed to really exchange blows at each other in between the course of the long scene. The scene was shot in a specially created set. And they really clashed too! The net result was on the expected line when the film got released. This scene well registered the appearance and get-up of Sarath in the mind's eye of the audience!
Next, after some time, came the film 'Suryan'. In this Sarath acted with really shaven, and complete baldness of head. He had had willingly removed his total head hair for that role's sake! After this film's terrific success, Sarath's popularity among audience rose to the peak level. So many other films afterwards like 'Kattabomman', 'Cheran Pandian' and 'Naattaamai' earned very great and unique popularity for him among women audience. The film 'Surya Vamsam' that came to screen in 1997, created records in revenue collection throughout Tamilnadu.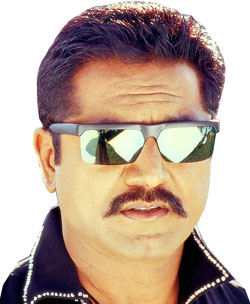 Sarath Kumar has so far acted in more than 75 films. The way he acts in films in such special roles as well-wishing, good-hearted, public-minded person rendering social service, later came to be materialised in his real life also. Those cinematic concepts are put into reality in actual life.i.e. he has established in real life a trust in the name of his father and through it he is rendering monetory help to the poor for education and is also lending economic help to the needy for medical treatment. Sarath is interested in sports activities and hence has created a separate club for promoting sports.
He has established a hospital in Coimbatore. It has modern amenities and equipments. He has provided facilities for giving free medical treatment for the poor people.
Sarath Kumar joined DMK in the year 1996. DMK fielded him in Tirunelveli Loksabha Constituency during 1998 parliamentary elections and he lost by small margin. In 2002,DMK made him a Rajyasabha member. He left DMK before 2006 Assembly elections owing to differences with Tamilnadu Chief Minister M.Karunanidhi's family members. He joined AIADMK along with his wife Radhika and campaigned vigorously for that party.
His wife Radhika Sarathkumar was dismissed from AIADMK for anti party activities in October 2006. He also quit from AIADMK in November 2006 quoting his workload in Cine industry as a reason.
On August 31st 2007, Sarathkumar floated a new party named ['Akila Indiya Samathuva Makkal Katchi' He has vowed to bring back Kamarajar rule in Tamil Nadu.