BizHat.com > Movies > Actors

Rajinikanth
Rajinikanth | About Rajinikanth | Gallery 1 | Gallery 2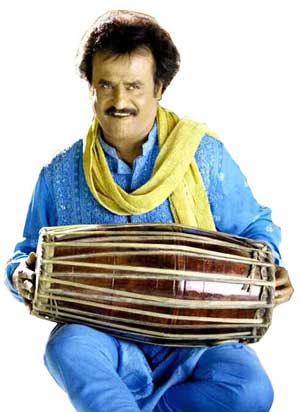 Rajinikanth, the stylemannan was born on December 12, 1949 in Karnataka. His actual name was Shivaji Rao Gaekwad and later changed as Rajani kanth .He is having 1.5 millions of fans of all over the world. He grew up to become a bus conductor during which time he reportedly caught the fancy of the bus travellers with his mannerisms and style of issuing tickets and blowing the whistle and so on. Looking to become an actor, he moved to Madras and joined the film institute. It was here that he caught the eye of K.Balachander, a director known for introducing talented, new faces into the tamil film industry. K.Balachander gave him a small role - as the no-good husband of Srividya - in Aboorva Raagangal and the rest, as they say, is history. Rajnikanth soon graduated to playing villains and his style, swagger and casually unique brand of villainy vowed the movie-going public. Be it the sadistic husband of Sujatha in Avargal or the wolf in sheep's clothing in Moondru Mudichu or the lust-filled village rowdy in Bharathiraja's 16 Vayadhinile, Rajnikanth was the villain the people loved to hate. From here, it was a small step for Rajni, playing the anti-hero and finally, the hero in Bhairavi.
Rajnikanth firmly captured the vacant, action-hero slot in tamil movies with a series of movies where he routinely bashed up the bad guys who had done him injustice in one way or the other. Once in a while he did movies like Aarulirundhu Arubadhu Varai or Johny which gave us glimpses of his acting potential. But action was what the fans expected from a Rajni movie and action was what he gave them. The credit goes to director Rajasekhar for tapping the comedy potential in Rajnikanth. He gave us the breezy Thambikku Endha Ooru which saw Rajni balance the action and the comedy sequences with equal ease. The scene where he reads a soft-porn book while a snake enters his room is one for the comedy history books!The film went on to become a huge blockbuster and the path of Rajni's future movies was set. Rajnikanth honed his action-comedy hero skills with a series of movies like Nallavanukku Nallavan, Pokkiri Raja, Murattu Kaalai with S.P.Muthuraman. All these were mega-hits and firmed his status as the number one crowd puller in tamil movies.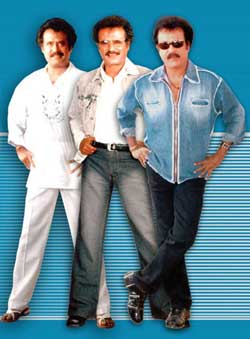 There was a brief lull when the much-hyped Maaveeran, his own production, flopped at the box-office. But then came Padikkadhaavan, one of his biggest hits and there was no looking back after that. For his next production Valli, he gave all major responsibilities, including direction, to newcomers while playing a cameo role himself. The movie was received well both critically and commercially.
Annamalai's dialogues were seen by many as Rajnikanth's direct warning to then Chief Minister J.Jayalalitha about his possible entry into politics. Rajnikanth frequently denied any such intentions but the political overtones in his dialogues in movies like Uzhaippaali and Yejamaan did nothing to quell the rumours. As the elections neared, he directly came out against the CM, thundering that his only goal was to see her removed from office. He played a major part in putting together an alliance between the DMK and TMC, leading to, in no small part, their landslide victory in the polls. He preferred to be king-maker rather than king! Later that year, he received the State award for Best actor for his great performance as father and son in Muthu, arguably, his biggest hit to date. His last movie was Arunachalam released on Tamil New Year's Day 1997. For this movie, he hand-picked 8 people from the tamil film industry who had fallen on bad times financially and made them the producers of the movie. He proved all over again that he was not just a great actor but a great human being. Here's to a lot more years of entertainment