BizHat.com > Movies > Actors

Madhavan
Madhavan | About Madhavan | Gallery 1 | Gallery 2
Madhavan was born in Jamshedpur, India, to a private-firm owner Ranganathan and bank worker Saroja. Devika Ranganathan, Madhavan's sister, is a software engineer settled in the U.S. In 1988, Madhavan was chosen to represent India as its cultural ambassador from his college to Canada after his graduation. At 22, he was awarded the Maharashtra Best Cadet, allowing him to make a trip with three others as NCC Cadets to England. Because of this honour, he received training with the Royal Army, the Navy and the Air Force, which he previously planned to join. However he was rejected from the opportunity, as he missed the age cut-off by six months. After he lost out on the place, he began taking courses in public speaking which eventually helped him venture into the film industry. He won the Indian Championship for Public Speaking and was subsequently selected to represent India at the Young Businessmen Conference in Tokyo, Japan in 1992.
In early 1997, Madhavan did a sandalwood talc advertisement for Santosh Sivan, who later recommended him to Mani Ratnam for a screen test for a role in Iruvar. Later in the same year, Mani Ratnam called Madhavan for the screen test, but left him out of the project citing that he thought his eyes looked too young for a senior role. As his film career, failed to take off, Madhavan reverted to act in Hindi television serials. He appeared in minor roles in serials titled Saaya, Sea Hawks, Banegi Apni Baat, Tol Mol Ke Bol and Ghar Jamai.
In 1998, Madhavan appeared in his first film role as an Indian police officer in Fred Olen Ray's Inferno alongside Don Wilson. His first chance in Indian movies came in the form of Shanti Shanti Shanti, a Kannada film, in which he acted in the second lead role to Abbas, an established actor. However the film failed to make an impact, and went unnoticed.
Bollywood director, Vinod Pandey launched Madhavan as a Bollywood hero, with a project titled Lakheli, however the film was abandoned by the producers soon after production began and the film was cancelled.
Alaipayuthey, Madhavan's second Indian film became a blockbuster upon release and earned positive reviews from critics. In Alaipayuthey, paired with Shalini Kumar, he portrayed to role of "Karthik", a husband experiencing difficulties with his marriage. Madhavan's performance was well-received by critics and the film became a cult hit, leaving way to several spoofs of his character. A critic, Balaji Balasubramaniam of BBreviews.com claimed that "Madhavan is promising in his debut feature and his character is designed to set hearts aflutter", praising Madhavan and his characterization. After the success of his first Tamil film, the producers of his previous Kannada film, Shanti Shanti Shanti, dubbed the film into Tamil and released it as Relax, to capitulate on Madhavan's new found success. Madhavan's second lead role was in Ennavale, a film ignored by critics and audience alike. Madhavan's choice to be a part of this film, was unappreciated and one critic claimed, "With Madhavan being hot property in Kodambakkam ever since Alaipayuthey, his second movie was highly anticipated. But unless he selects stories and scripts that are much better than Ennavale, his stay might be a short-lived one". Madhavan had more success starring opposite Reema Sen in Minnale, which was later remade into Hindi as Rehna Hai Tere Dil Mein marking Madhavan's debut in Bollywood; he also played in Madras Talkies' Dumm Dumm Dumm with Jyothika Saravanan. Both films became successes and Madhavan became established as a bankable actor in South India. Madhavan later starred in Parthale Paravasam, the hundredth venture of veteran director, K. Balachander. Madhavan, in the film, acted as a husband in troubling marriage, again, after Alaipayuthey. Despite being highly anticipated, the film flopped at the box-office, with critics labelling that Madhavan looked "rather bored" with the proceedings.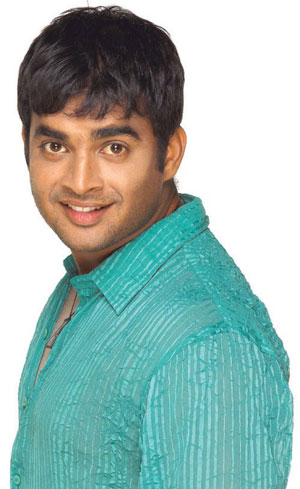 Following Parthale Paravasam, Madhavan starred opposite Simran Bagga in his third Mani Ratnam production, Kannathil Muthamittal. He portrayed the role of a father of an adopted child, who wishes to return to her native homeland amid a civil war. The film, became a trend-setting film in Tamil cinema and managed to six National Awards as well as over ten awards at various International Film Festivals around the world. Madhavan gained a particular praise for putting in a mature display. Madhavan's next large success came in Run, a film recognized for its screenplay, Madhavan appeared as an action hero for the maiden time in his career.
The success of Run, became Madhavan's final major hit for a while, several films of his were critically acclaimed but failed to perform commercially. Anbe Sivam, co-starring Kamal Haasan, was critically praised but failed to become a grosser. Several critics claimed that Madhavan's performance as a frustrated ad-maker, lived up to the title role of Kamal Haasan's. Kamal Haasan's home production, Nala Damayanthi and Vikraman's Priyamana Thozhi, failed to live up to their anticipated values but Madhavan's performance in the films were appreciated. A guest role followed in Lesa Lesa, and two more average films in Jay Jay and Aethiree followed. Madhavan's career as an actor, became even more distraught after his English film, Nothing But Life, also failed to become a grosser.
2004, despite starting poorly, was a very prolific year for Madhavan, who starred in the films Aethiree, Nothing But Life, and the critically acclaimed Aayitha Ezhuthu. After Aethiree failed, Madhavan banked upon Nothing But Life, an English film, to divert him back into a career of stardom. But it also failed, leaving Madhavan offerless. However, Mani Ratnam selected Madhavan to play a lead role in his forthcoming bilingual. The film was made as Aayitha Ezhuthu in Tamil and Yuva in Hindi, with only Esha Deol reprising her role in both versions. Apart from Deol, others in the multi-starrer were also actors who had been going through a rough patch. Surya Sivakumar, Siddharth Narayan, Meera Jasmine and Trisha Krishnan made up the rest of the cast. His character, Inba Sekhar, was a hitman living in the slums of Chennai, who eventually went on to help a politician gain power. However Inba Sekhar's wife, Sasi, desperately tried to claw him away from his profession only to be beaten, thrown out and then come back crawling again.
Madhavan has stated that the role he played, was the role he had experienced and enjoyed the most. He received praise from critics, claiming he outplayed Abhishek Bachchan's interpretation of the character in the other version, Yuva. Madhavan was short listed for the Indian National Film Award for the Best Supporting Actor and won the South Indian Filmfare Award for the Best Supporting Actor.
Priyasakhi followed in 2005, co-starring Sada - with the pair playing an estranged husband and wife. The film received praise for the lead actors and became the first Tamil language to be dubbed into Zulu. Ramji Londonwaley, the remake of Nala Damayanthi was released in Bollywood and became an average grosser.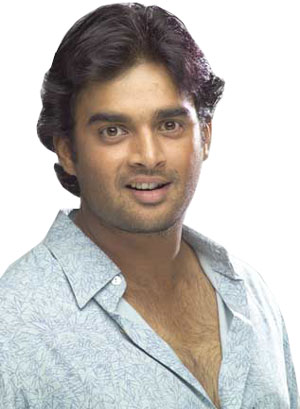 In 2006, Madhavan recorded three hits in Rang De Basanti, Thambi and Rendu. His appearance in vital cameo role, in Rang De Basanti, was appreciated by film critics, earning him his first major hit in Bollywood. Thambi, was shot for over a year and was badly delayed, however despite a poor opening, the film managed to make a remarkable comeback and prove to be a big hit in town and village centres. Madhavan's portrayal of the do-gooder, received mixed reviews from critics. In Rendu, Madhavan appeared in his first dual role in his career. The film became one of Madhavan's biggest successes.
Guru, Madhavan's fifth film under Mani Ratnam's production, portrayed him in the role of real life journalist, S. Gurumurthy. Guru, which was one of Bollywood's biggest hits of 2007, was a bio-pic of the life of business tycoon, Dhirubhai Ambani. After playing a guest role as himself in Delhi Heights, his first Tamil release of the year, Aarya received mixed reviews, however became a success at the box-office. Throughout the last quarter of 2007, Madhavan along with his co-stars of Evano Oruvan, toured the world promoting the film, which therefore became the first Tamil film to be screened abroad prior to release in India. Madhavan later bought the film, with his new production company, Leukos Films. Evano Oruvan released in December 2007 to raving reviews praising Madhavan's portrayal, but the film failed commercially.
Madhavan's first release of 2008, was in Seeman's Vaazhthukal with Bhavana, which opened averagely.
Madhavan has three films ready for release, with the earliest being, Leelai, also known as Adi Oka Idhi Le in its Telugu version, set for release in the first quarter of 2008, while his Hindi film, Mumbai Meri Jaan is also completed. The third film completed, is a Hindi-Bengali bilingual Sunglass, directed by Rituparno Ghosh. Madhavan has a film in the production stage, Endrendrum Punnagai alongside Shruti Haasan, directed by Nishikanth who had directed, Evano Oruvan. Several other films have been announced by Madhavan, including a bio-pic of painter, Raja Ravi Verma; a film on the 2006 Mumbai Bombings and an English film with Deepa Mehta as director.