BizHat.com > Movies > Actors

Kamal Hassan
Kamal Hassan | About Kamal Hassan | Gallery 1 | Gallery 2
Kamal Haasan (born on November 7, 1954) is a four time National Film Award winning Indian film actor.
Kamal is the youngest of four children born in to an Iyengar family to Rajalakshmi and Srinivasan. His father, an attorney by profession, gave all his sons (Charu Haasan, Chandra Haasan, Kamal Haasan) the suffix of 'Haasan' as a sign of his friendship to one Mr. Haasan. Kamal is also a playback singer and sometimes pens the lyrics for the soundtracks of some of his recent films. He is an able performer of the Bharatanatyam dance form. He had assisted in choreography early in his career. He is multilingual.
He began his career as a child artist in many films, while also attending a theatre for stage plays. Kamal Haasan gained the Indian cinema's attention in his first blockbuster, 'Kalathur Kannamma' (1960) and since then he has acted in over two hundred Indian films.
He is the only actor other than Mammootty who received three National film awards for Best Actor. Moreover, Kamal Haasan also received a National award for best performance as a child artist. Kamal Haasan along with Mammootty, Anil Kapoor, Om Puri, and Naseruddin Shah are called the Famous Five of Indian Cinema.
Kamal Hassan has received India's fourth highest civilian honour, the Padma Shri for his services to Indian cinema in 1990. Kamal Haasan performs predominantly in leading roles in high-budget and major studio films, ranging from romantic comedies and drama to action thrillers. His most popular films include 'Moondram Pirai' (1982), 'Saagara Sangamam' (1983), 'Nayagan' (1987), 'Indian' (1996) and 'Hey Ram' (2000). In his currently unreleased film 'Dasavatharam', he has attempted to portray ten different characters.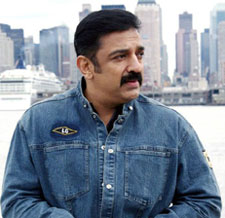 In the 1960s, Kamal made his screen debut with 'Kalathur Kannamma' produced by AVM production at the age of six and it won him the first National Award for Best Child Artist. He followed it with appearances as a child actor in movies that featured MGR, Sivaji Ganesan, Nagesh and Gemini Ganesh.
As an actor in adult roles, he received a lukewarm response for his initial few films like 'Avargal', 'Aval Oru Thodarkathai', 'Solla Thaan Ninaikkiren', 'Maanavan' and 'Kumara Vijayam'.
His first highly popular movie was '16 Vayathinile' with Sridevi. This established him as a popular teen idol at the age of 23. Kamal Haasan and Sri Devi were a popular acting pair and have acted together in 23 films. The year following his appearance in '16 Vayathinile', Kamal Haasan acted in director K. Balachander's Telugu hit 'Maro Charithra'.In many of his late 1970s films, he was usually the hero, with Rajinikanth as the villain.
During the 1970s, he has played a host of characters that include-a ventriloquist in Avargal (He actually learnt ventriquilism for his role in the movie),a village innocent in '16 Vayathinile',a disco jockey in 'Ilamai Oonjaladugiradhu',a psychopath serial killer of women in 'Sigappu Rojakkal',a buck-toothed villager in 'Kalyanaraman',Aladdin in 'Alavudheenum Arpudha Vilakkum'.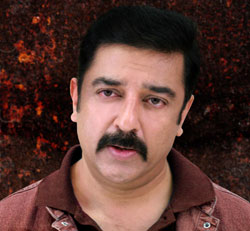 His first attempt at direction came through an unfortunate turn of events with the demise of director T.N. Baalu during the filming of 'Sankarlal' in 1981. Kamal reached stardom in 1979 with multiple classics and mass blockbusters which coincided with the decline of MGR/ Sivaji era in movies (MGR quit movies in 1977 while Sivaji, nevertheless continued to act till the 90s). A huge factor behind Kamal's success is his versatility.
In the 80s, he has played amongst other roles, :a blind violinist in 'Raja Paarvai' at the age of 27 (first screenplay by Kamal), a classical dancer in 'Saagara Sangamam',a mentally challenged man who falls in love in 'Swathi Muthyam',an undercover cop in 'Kaaki Sattai',a benevolent underworld don in 'Nayagan' (Leader) at the age of 33 (directed by Mani Ratnam), an unemployed youth who chances upon a week of opulence in the silent movie 'Pushpak', an honest cop, a dwarf circus clown and a fun-loving mechanic in 'Apoorva Sagodharargal' at the age of 35 (screenplay by Kamal),a corrupt mayor in Indrudu Chandrudu, a spy in 'Vikram', an illiterate villager in 'Sakalakala Vallavan' Apoorva Sagodharargal, which released in 1989, was the first Kamal film to gross almost Rs.25 million at the box office.
In the 1990s Kamal's second attempt at direction came through another unfortunate turn of events when the original director Shantanu Sheroey failed to do a good job while filming 'Chachi 420' in 1997. Inspired by the European style of closer-to-reality docu-dramas, Kamal moved decisively towards making films for select classes in the 90s, isolating some of his ardent fans.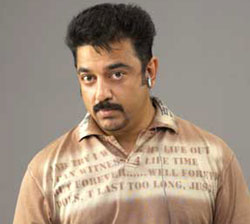 In this period, he has played as a Doctor in the Tamil comedy movie 'Sathy Leelavathy', as quadruplets in the comedy 'Michael Madhana Kamarajan',as an old and highly-corrupt mayor in 'Indiran Chandiran', a mentally-challenged man in the very dark film 'Guna',a modern youth-turned-villager in 'Thevar Magan' at the age of 38 (written and produced by Kamal), a hapless familyman who lost and re-discovers his family in a metropolis in 'Mahanadhi', a revolutionary lecturer in 'Nammavar',a special police squad officer against terrorism in 'Kuruthipunal', a righteous old revolutionary as well as his corrupt son in 'Indian', an old nanny in 'Avvai Shanmugi' at the age of 42.
Unlike the eighties, Kamal films in the nineties lost sheen and were unsuccessful, barring 'Thevar Magan', 'Michael Madhana Kamarajan', 'Avvai Shanmugi' and 'Indian'. 'Indian' directed by Shankar which released in 1996 , grossed almost Rs.100 million at the box office marking a new peak in his career.
Kamal continues scripting directing and acting in his productions, and has met with considerable success at the box office.Again, he has played diverse roles in this period, which include: a Hindu fundamentalist in 'Hey Ram',a mentally affected Sri Lankan Tamil in the comedy 'Thenali',a pair of twins (one of which is a deranged psychopath) in 'Aalavandhan',an ardent bachelor-stuntmaster-turned-lover in 'Pammal K. Sambandam',a randy pilot in the comedy caper 'Panchathantiram',a disabled altruist (Communist) in 'Anbe Sivam',a rustic wrongly jailed for the murder of his lover in 'Virumaandi' (directed by Kamal),a deaf circus stuntman in 'Mumbai Express' at the age of 51,an affable mafiaman enrolled in medical school, 'Vasool Raja MBBS' a remake of Hindi film, Munna Bai M.B.B.S, as DCP Raghavan, a smart and suave policeman with his 'Raghavan instinct' out to trace a serial psychopath killer duo in 'Vettaiyaadu Vilaiyaadu'. 'Thenali' which released in 2000, was the first Kamal film to gross almost Rs.100 million at the box office. 'Vasool Raja MBBS' and 'Vettaiyaadu Vilaiyaadu' mopped up over Rs.150 million and Rs.300 million each at the box office.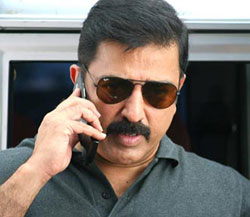 Kamal has an uncanny ability to remake Hollywood movies in Tamil. His remakes are not lift-offs. His remakes are usually inspired by Hollywood originals, but the story and screenplay are customized for Indian Audiences. The central plot/theme of the movie is from the Hollywood original, 'Nayagan' was inspired by Godfather. 'Avvai Shanmugi' and 'Chachi 420' were inspired by 'Mrs. Doubtfire'. 'Anbe Sivam' was inspired by 'Planes, Trains & Automobiles'. 'Sathi Leelavathi' was inspired by 'She-Devil' (film) and 'Magalir Mattum' was inspired by 'Nine to Five'.
Kamal is a three-time winner of the National Film Award for Best Actor for the films 'Nayagan', 'Moondram Pirai' and 'Indian'. He also won the national award for Best Child Actor for his performance in 'Kalathur Kannamma'. He has also received the best actor award at the Asian Film festivals held in 1983 and 1985 for 'Saagara Sangamam' and 'Swathi Muthyam' respectively.
Seven of his movies have been sent as India's official entry to the Oscars- The only actor to achieve this feat in the sub-continent. Kamal has won the Filmfare awards 18 times. In fact, he wrote to the FILMFARE committee not to give him any more awards and that be used to encourage the upcoming and promising young actors.
He was awarded the fourth highest recognition given to Indian civilians - the Padmashri in 1990. He was conferred an honorary doctorate by Sathyabama University, Chennai in 2005. Kamal Haasan has won a total of 172 awards which is more than any other actor in the world living or dead. He was named as 'kalaignani' - an idol of art, by M. Karunanidhi for his classical work towards Tamil cinema. In his upcoming film Dasavatharam, he plays 10 different roles, an act which is the second of its kind in the world, after the Tamil movie Navarathri (1936).
Kamal was also conferred with a very unique honour this year(2007) as 'Living Legend' in the film business by FICCI,India.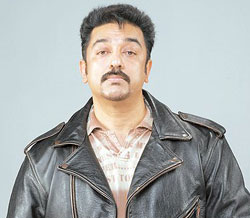 Kamal started his foray into film production with 'Raaja Paarvai' in 1981. The film was a commercial failure, though critically well received. A more recent production was the film 'Virumaandi' in 2004. His privately held production house Raj Kamal Films produced several classics like 'Apoorva Sagodharargal',' Thevar Magan', 'Kuruthipunal' etc. His more recent production ventures include the films 'Virumaandi' and 'Mumbai Xpress'.
His magnum opus, 'Marudha Naayagam', is a period film set in early 18th century Madurai about a warrior/freedom fighter Yusuf Khan Sahib or Muhammed Yusuf Khan. The film's launch was inaugurated by Queen Elizabeth II. However, the film is still under production or shelved due to many reasons.
In 2005, he launched a new business unit called Raj Kamal Audio in a drive to corporatise all his film commitments. In 2006, he purchased prime real estate for a state-of-the-art multiplex cinema.