BizHat.com > Movies > Actors

Dileep
Dileep | About Dileep | Gallery 1 | Gallery 2
Hits after hits, Dileep is currently the most sought after star in Malayalam cinema and is going great guns with the hugely popular Meesha Madhavan.
With his attempts to give completeness to the character as an actor, Dileep is rising to new heights in his career.
Ever since the Lohitadas-directed Joker was released in 2000, Dilip's popularity has been on the rise. Subsequently, he has been delivering hit after hit like Ishtam, Ee Parakkum Thalika, Mazhathullikilukkam etc. With the recent Meesha Madhavan becoming a big hit, Dilip has become the hot property in Malayalam film industry. The producers, who were up in arms against Dileep two-three months ago, have given him the position of the most guaranteed actor in Malayalam film. In the trade, theatres are now willing to pay for Dileep films the kind of advance they used to pay Mohanlal movies earlier.
Dileep entered the Malayalam filmdom through Sallapam. With the film becoming a hit, Dileep proved that he has come to stay in the industry for long. His debut film earned him the name of a good comedy actor. By the time Punjabi House, a Rafi-Mecartin film hit the theatres Dileep had already done good homework on his part with some numbers good enough to capture the hearts of his well wishers as well as detractors.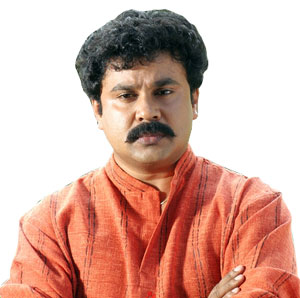 It was Lohitadas's Joker which unchained him from the type comedy roles he had at his hand. He played the role of the joker, who always wore a smile at his face and was making others life even when he had a whole lot of personal agonies hid within his heart. He handled the character with easiness that he never had to look back after the film's stupendous success. Hits after hits have made him the most valued star in Malayalam tinseldom.
Experimenting with odd roles, Dileep, the most popular actor moves ahead to take on the number one position in Malayalam film industry. Dilip's forthcoming film Kunjikoonan has the star playing a dual role for the first time in his career - as an ugly-looking, crippled hunchback and a handsome college-guy. The film which is being produced by Milan Jaleel under the banner of Supreme Films, is being directed by Shashi Shanker.
Shashi Shanker has earlier directed films like Naaraayam, Punnaaram, Mr.Butler etc. Kunjikoonan has, as its central character, a somewhat ugly-looking hunchback named Kunjan. Kunjan runs a telephone booth. He is all alone in the world and yearns for someone to love him. It is at this juncture that Chembakam, a blind girl from a circus, enters his life. Kunjan finds solace in the love that blossom in Chembakam's heart. But he does not tell her that he is a hunchback.