BizHat.com > Movies > Actors

Padma Shri Bharath Mammootty
Mammootty | About Mammootty | Gallery 1 | Gallery 2
Mammootty is widely considered in southern film circles as masculinity epitomized. His profound looks, baritone voice and thick moustache underline his qualities of manliness. But four national awards, five State awards and five Filmfare awards that he had won for best acting assert that more than his looks it is his acting prowess that had won him wider appreciation and recognition.
A lawyer by qualification, Mammootty has always wanted to be an actor. His entry into filmdom was rather late. As bad luck would have it, his first film, Devalokam, never saw the light of the day. None other than the colossal figure in Malayalam cinema M T Vasudevan Nair discovered him and it was veteran director K G George who brought up Mammootty as an actor. Today he has profound respect for both. Initially K G George's films like Yavanika and other films like Vilkanunde Swapnangal and Valarthumrigangal made him noticeable.
Mammootty's career graph dotted with highs and lows. His career saw a spectacular rise after the release of Joshi's New Delhi. It heralded the arrival of Mammootty the super star. His performance as a victimized journalist, who systematically took revenge on those politicians who beguiled him, caught the imagination of many in the film world. Thereafter he gave series of super hits, but only to remain low for sometime afterwards.
Apart from the heroic roles he enacted in pure commercial films, Mammootty was fortunate to have got the chances to portray the meaty roles of M T Vasudevan Nair's (M T) characters.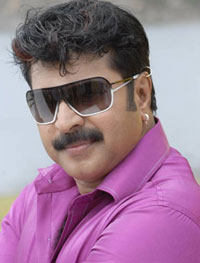 M T's films like Aalkootathil Thaniye catapulted him to new realms of stardom. His controlled acting, never crossing the limits, and his presentation of M T 's dialogues, which were always pregnant with meaning, gave Malayalam cinema a new concept of hero.
Then came his Oru CBI Diary kurippe, which some observers of Malayalam films say was a landmark. It brought to fore a new concept of villainy, fresh presentation of politicians and above all a refreshing idea of hero. Without even a single song or dance number, Oru CBI Diary kurippe went on to create box-office history in Kerala. For all these, a large portion of credit goes to Mammootty for his enactment of the role of an upright CBI officer and his immaculate ways of unfolding the secrets of a murder shrouded in mystery. His theatrical representation of a Tamil Brahmin CBI officer became a topic of household discussion in Kerala.
Mammootty touched higher pinnacles of his career in Oru Vadakkan Veeragatha, again an M T creation. His depiction of a man of distinguished valor but vilified by circumstances won him the top honors of the country, National Award for best acting. His histrionics matched the literary genius of M T. After his first national award, he made it almost a habit of winning the national award.
It was acting talents coupled with his willingness to go to any extent to rationally portray the roles that helped to him put his one leg in offbeat and commercial movies and other in art movies, and yet not to fall flat. Mammootty became almost a regular face in Adoor Gopalakrishnan's films.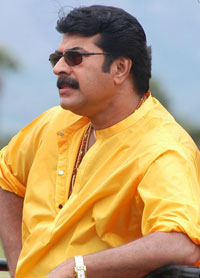 He starred in three of his latest movies, Anantharam, Mathilukkal and Vidheyan. The easiness with which he illustrated on screen the protagonist in Mathilukkal won him national award for best acting once more. It was again in an art movie, Ponthan Mada, which won him the national award for a third time.
In between he had crossed the boundaries of Malayalam cinema and acted in Tamil, Telugu and Hindi movies. Though he proved a success in Tamil after Mani Ratnam's Dalapati and continue to shine in Tamil films (Kandukondein Kandukondein is his latest Tamil flick), his maiden Hindi film, Dhartiputra went unnoticed. But his national presence was once again felt after Jabbar Patel's Dr Baba Saheb Ambedkar. So realistic was his performance that it was reported thousands who watched the shooting of the film were in tears after the shooting. No wonder, he again bagged the coveted Rajat Kamal for best acting.
Howsoever, Mammootty has his drawbacks too. He is vulnerable in comedy scenes. Running around the trees is not his cup of tea. His fans would like to avoid watch him dancing. Nevertheless, his innumerable good qualities make up for his rather insignificant shortcomings.