BizHat.com > Movies > Actors

Amitabh Bachchan
Amitabh Bachchan | About Amitabh Bachchan | Gallery 1 | Gallery 2 | Wallpapers
Amitabh Bachchan, the 'Shahenshah' of Bollywood was born to well-known poet Harivansh Rai Bachchan and Teji Bachchan in Allahabad on October 11, 1942.
Amitabh went to Sherwood College, a boarding school in Nainital, and then to Kirori Mal College in Delhi University where he earned a double MA.
The elder son of Harivansh Rai Bachchan was a former stage actor, radio announcer and freight company executive in Shaw Wallace in Calcutta, before coming to the land of dreams, Bombay (now Mumbai). He had to struggle a lot in Bollywood because of his unconventional looks and his height. At 6'3", he was considered far too tall by the filmmakers. Surprisingly, despite having a rich baritone voice, Bachchan failed in an audition at the All India Radio!
Ultimately, it was K A Abbas who gave Amitabh his first break in 'Saat Hindustani' (1969). But the film failed miserably, with Bachchan going almost unnoticed.
Amitabh played the lead role, for the first time in his career, in 'Pyar Ki Kahani' (1971), directed by Ravikant Nagaich.
It was on the sets of B R Ishara's 'Ek Nazar' (1972) that Amitabh and Jaya Bhaduri realized that they were in love with each other. They married soon after.
Though Amitabh got an award for the best supporting actor for 'Anand' (1972), he was eclipsed by a stellar performance from Rajesh Khanna.
It was his 13th film 'Zanjeer', directed by Prakash Mehra, which catapulted Amitabh to fame. In the film, he played a strict police officer. The role, which fetched him the title 'The Angry Young Man', came to him by default. A host of actors like Dharmendra, Dev Anand and Raj Kumar refused to do the role on account of some apprehension.
Then began a remarkable journey to fame and success. In no time the Indian film industry was declared a 'One Man Industry', and Bachchan its undisputed king.
Amitabh had his 'sweet revenge' against Rajesh Khanna by outshining him in 'Namak Haraam' (1974). The film secured him another award for Best Supporting Actor.
The year 1975 saw the release of Amitabh's two biggest hits till date. Ramesh Sippy's 'Sholay' and Yash Chopra's 'Deewaar'. Amitabh got his first Best Actor Award for Manmohan Desai's 'Amar Akbar Anthony' (1977), next year for 'Don' and then for 'Hum' (1991).
He also bagged the National Award for Best Actor for 'Agneepath', which was made by the late Mukul Anand.
Amitabh worked with a host of directors in the 70s and the 80s ranging from Prakash Mehra to Yash Chopra and from Hrishikesh Mukherjee to Manmohan Desai.
After 'Zanjeer' Amitabh again joined hands with Prakash Mehra to give hits like 'Hera Pheri' (1975), 'Muqaddar Ka Siqander' (1979), 'Lawaaris' (1981), 'Namak Halaal' (1982) and 'Sharaabi' (1984).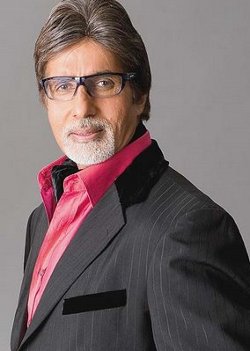 Yash Chopra exploited the romantic side of Bachchan to the hilt in 'Kabhi Kabhie' (1976) and 'Silsila' (1981). Bachchan also did the 'angry' roles with Yash Chopra in 'Trishul' (1978) and 'Kaala Patthar' (1979).
Bachchan essayed a fantastic range of 'off-beat' roles under the direction of veteran Hrishikesh Mukherjee. Apart from 'Anand' and 'Namak Haraam', he gave standout performances in 'Abhimaan' (1973) 'Mili' (1975), 'Chupke Chupke' (1975), 'Jurmana' (1979) and 'Bemisaal' (1982).
With the late Manmohan Desai, the director with the Midas touch, Amitabh did nine films, which included blockbusters like 'Amar Akbar Anthony', 'Suhaag' (1979) and 'Coolie' (1983).
The adulation for Amitabh became clear when he was gravely injured during the filming of 'Coolie' in 1983. While he was battling for life in the hospital, the whole nation offered prayers at temples and mosques for his recovery. His other hits with 'Man' were 'Parvarish' (1977), 'Naseeb' (1981), 'Desh Premee' (1982) and 'Mard' (1985).
Amitabh's sizzling on-screen chemistry with Rekha worked wonders at the box office. No wonder, the delectable duo was considered one of the most successful Bollywood pairs. They worked together for the first time in Dulal Guha's 'Do Anjaane' (1976).
Amitabh matched the acting skills of another great actor in Ramesh Sippy's 'Shakti' (1982). The son of a strict police officer (Dilip Kumar), he takes to the life of high crime and smuggling. It was a big challenge for Amitabh the actor, and he came out with flying colors.
In the wake of the assassination of Indira Gandhi in 1984, on the advice of his close friend Rajiv Gandhi, he contested the general elections for the first time from his hometown Allahabad. His electoral debut proved the Waterloo of stalwart H N Bahuguna.
His stint in politics, however, proved short-loved. As ill luck would have it, Amitabh got embroiled in some scandals. Having realized that politics was not his cup of tea, Amitabh resigned his seat in Parliament, vowing never to dabble in politics again.
In 1988 came Tinu Anand's 'Shahenshah'. It blazed a new trail, with Amitabh becoming the first major film star to take his film's distribution rights for Mumbai in lieu of his salary.
The post-'Shahenshah' period marked a lull in the career of Amitabh. A host of mediocre films like 'Ganga Jamuna Saraswati', 'Toofan', 'Jaadugar' littered this phase of Bachchan's career.
But then, the Big B bounced back – in brilliant fashion-- when the industry started to write him off. The comeback film was 'Hum' (1991) which was a smashing hit, thanks to Big B's stellar performance.
A few years later, Amitabh started his own production company, the Amitabh Bachchan Corporation Limited (ABCL). ABCL ventured into film distribution with Mani Ratnam's 'Bombay'. It also was the principal sponsor of the Miss Universe Contest, held in Bangalore in 1996.
Unfortunately, ABCL fell on evil days, buried neck deep in debt. The company's cup of woe ran over when his films flopped miserably at the box-office. And he was again 'written off' by the industry.
This time, too, Bachchan bounced back in style. Only, it was his performance on the small screen that revived the Bachchan magic. The host of 'Kaun Banega Crorepati' once again rode the roller coaster of fame. A mellowed Bachchan found himself firmly 'locked' in the hearts of millions of his adoring fans. The show represented a paradigm shift in the history of Indian television. It is still luxuriating in the lap of success.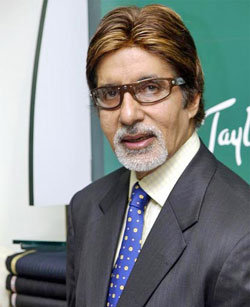 Then came the international accolades. Amitabh was chosen Superstar of the Millennium, easing out giants like Sir Lawrence Olivier and Charlie Chaplin on a BBC online poll. National recognition followed soon. On January 26, 2001 he was awarded the Padma Bhushan for his outstanding contributions to Indian Cinema.
Amitabh is a relieved man now, having paid off all his debts. What is more, he is once again a force to reckon with in the Indian film industry and has some very interesting films coming up.
Undoubtedly, Amitabh is still the Shahenshah of the Indian film industry. The Big B is an icon who has survived three decades of competition, even trends. And emerged a winner.
After a series of hits with Mohabbatein (2000), Kabhi Khushi Kabhie Gham... (2001), Baghban (2003) , Khakee (2004), Sarkar(2005) and Black(2005), , a 60 plus Bachchan is showing no signs of slowing down and proving the critics wrong once again. His son Abhishek is also an actor by his own rights. Amitabh and Jaya were interested in getting Abhishek married to Karishma Kapoor, the daughter of Babita and Randhi Kapoor, they went through a formal engagement, but later broke it off. Now Ajitabh and the rest of the family have recently consulted an astrologer and compared the astrological charts of former Miss World and Bollywood actress, Aishwarya Rai, with that of Abhishek, hoping that they are compatible, and if so, Amitabh may get his only son married around September, 2006. However, a number of events contributed to the delay, as prayers and Havans were performed to remove any doubts about Aishwarya being a Manglik, and finally both youngsters were formally engaged on Sunday January 14, 2007, at the Bachchan residence in Juhu, Bombay.
Currently, he is one of the most busiest actors and singers in Bollywood as well as on TV, as can be seen from the commercials that he appears on, especially on Sahara One. Looks like there are no limits for this super-star and once the 'Angry Young Man'. of Bollywood.