BizHat.com > Movies > Television

Shaktiman
Producer: Mukesh Khanna
Episode Director: Dinesh Samby
Director: DInkar Jani
Shaktiman: Mukesh Khanna
Chanel: DD1 - National
Time: 12 AM to 1 PM Every Sunday

Shaktiman is a popular serial produced by Mukesh Khanna. In this serial, Mukesh Khanna act as Shaktiman (Pandit Gangadhar Vidyadhar Mayadhar Ambernath Shastri). Shaktiman is one with super natural powers who fight againest powers of darkness.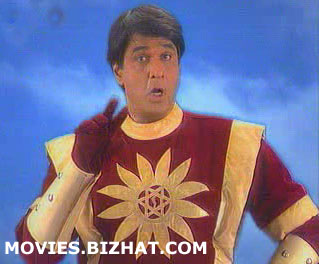 Shaktiman Helps Quake Affected Children.
The popular television hero, Shaktiman, did his bit for the quake-affected children of Gujarat, too.
Actor Mukesh Khanna, who recently visited various parts of Gujarat including the worst affected Bhuj and Anjar of Kutch district at a request by the Central government, told newspersons in Bombay on February 22 that he had gone to boost their morale and soothe the traumatised children.
"Face natural hazards with boldness as we are part of nature," Khanna told the children. He also held a group-counselling session using different methods including painting.
"I have taken the onus of working with these children to aid their psychological rehabilitation as well as provide them with basic comfort and security," he added.
He now plans to hold a rally with the children of Bombay schools and Kilwish, the evil character of his serial, on February 25. The decision to include the children of Bombay to help those of Gujarat came after visiting the quake-hit areas.
The rally will start from Borivili, Bombay, and end at Andheri. The convoy will consist of 10 to 12 trucks of boy scouts and girl guides, school children and Kilwish in costume.
"I expect 150 school children and 300 scouts and guides," Khanna said, adding that the Scout-Guide band and the positive characters of Shaktimaan will lead the convoy, followed by trucks carrying children.
The scout-guide state president Kamlesh Gupta said that the relief materials will be taken to Gujarat and distributed through its counterpart.
As promised, Khanna also plans to set large tents in the quake-affected Bhuj and Anjar to run schools for the children.
PTI