BizHat.com > Movies > Actors

More about Vijay
Vijay | About Vijay | Gallery 1 | Gallery 2
Interview with Vijay
In the midst of the busy shooting schedule of Sachein, actor Vijay talks about Thiruppachi which was released on January14.
Question: Do you think that Thiruppachi will do well?
Vijay: I strongly believe that Thirupachi will be a hit film for me. This film has sentiments, romance and action mixed in the right proportion.
Question: How do you differentiate your other films like Thirumalai, Ghilli, Madurae from Thirupachi?
Vijay: Usually, my films have a common formula, but this film has something different. You won't be satisfied with my answer to this question unless you yourself watch the movie and compare it with my other films.
Question: Comment on the fight sequences in Thirupachi?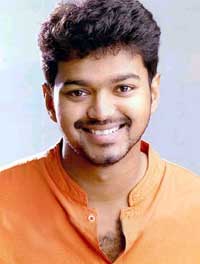 Vijay: You wouldn't have come across a fight sequence as in Thirupachi in any other films. Of course, it is going to be praised by all and the credit goes to the producer and the stunt master.
Question: Do you believe that luck is on your side?
Vijay: I believe in my work. I try to perform well without even committing small mistakes. Whether luck is on my side or not, I see that my producers donít burn their fingers. This film is produced by R.B.Chowdry who fetched me hit films like Poovey Unakaga, Thulladha Manamum Thullum. I believe that Thiruppachi will also be a hit film for me.
Question: How was your experience working with director Perarasu.
Vijay: He is a talented person. He talks very less but he shows everything in his work. He acts before me, scene by scene, before the take is on. Director Perarasu helped me to perform well in this film. I am sure that director Perarasu will soon find a position in the famous young director's list.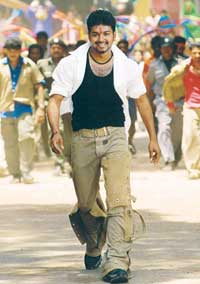 Question: Are you satisfying your fans?
Vijay: Yes. I hope so. I am always giving them what they need from me in my films. If their expectations are more, then I would work hard and satisfy them.
Question: Please comment about Sachein?
Vijay: The shooting of the film has started and I will let you know more about it after sometime.
Question: Did Tsunami affect your mind?
Vijay: A tragedy like this should not have taken place. I felt very much for the victims of Tsunami. I participated in the Tsunami fund raising program organized by the Film industry. Personally, I gave a cheque of Rs.2 lakhs in favor of Chief Ministerís Tsunami Relief Fund.